SERIES:
THE FREAK POLICE
was set during the final days of global collapse, and seeing that the world was doomed a hard minded group of disgruntled freaks decides to do some mission impossible style action against those top capitalist pigs that made the apocalypse.
DR.ZEN AND FRIENDS
drzenbuddha's little children's show, a romping stomping good time, but don't look out the windows that are covered with lead shutters, the void awaits!
WHO IS SNOOD?
Professor Snood has invented an appliance for listening to the future, and has somehow tapped into the voices that call to us from our unborn children - voices that warn us of the nonexistence that is to come. . .
WACKY FLESHEATERS
a zany sitcom about a family of flesh eating zombies searching their suburban wasteland for still living neighbors.
WILD EYE RAMPAGE
a soap opera following the trials and tribulations of 'wild eye' and 'monkey bone', two chieftans of competing hordes fighting over the last unviolated pieces of civilization. all must fall beneath the sword.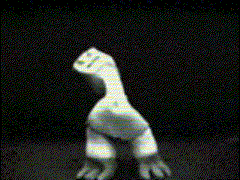 tpv central node